Aren't you tired of looking at the same old t-shirts we have on the wall? Well, we are too! So, they're all going on sale! Starting today, they will be 10% off. Each week, they will go down a bit more until the end of the month. At that time, they'll be gone forever and we'll have some shiny new shirts for you to look at. If there's anything up there you've been eyeing, now's the time to get it.
=Paula
Modern Mondays!!!
Hey guys, just wanted to let anyone interested in Magic The Gathering know that this Monday, Februrary 2nd (and all following Mondays) @5pm we will be starting Modern Mondays. This night of Magic will be a bit more competative than Friday Night Magic. So if you want to test your mettle build a modern deck and pit it against some dedicated foes for excellent prizes!
~Matt
UPCOMING SPECIAL EVENTS
February 14th – Fate Reforged Game Day
Build a standard deck and join us for a day of Magic (the Gathering)!
Starts at Noon, $5 entry.
SPOTLIGHT PRODUCTS THIS WEEK 
DC COMICS HEROES PATCHES
C & D VISIONARY INC
Logos of some of your favorite DC Comics heroes have been turned into patches that you can collect or sew onto your packpack or jacket!
&
MARVEL COMICS HEROES PATCHES
C & D VISIONARY INC
Logos of some of your favorite Marvel Comics heroes have been turned into patches that you can collect or sew onto your packpack or jacket!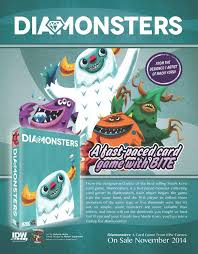 DIAMONSTERS CARD GAME
IDW Games
From the designer and artist of the Machi Koro card game comes Diamonsters! In this fast-paced monster-collecting card game, players begin with the same hand, and the first player to collect three identical monsters or five diamonds wins. But it's no simple task, as some monsters are more valuable and others will eat the diamonds you fought so hard for!
NAMELESS #1 (MR)
IMAGE COMICS
(W) Grant Morrison (A/CA) Chris Burnham, Nathan Fairbairn
An astronomer kills his family, then himself, leaving a cryptic warning.
A Veiled Lady hunts her victims through human nightmares.
An occult hustler known only as 'Nameless' is recruited by a consortium of billionaire futurists for a desperate mission.
And the malevolent asteroid Xibalba spins closer on a collision course with Earth.
But nothing is what it seems-a terrifying inhuman experiment is about to begin.
Abandon all hope and experience ultimate horror in NAMELESS.
RETURN OF LIVING DEADPOOL #1 (OF 4)
MARVEL COMICS
(W) Cullen Bunn (A) Nicole Virella (CA) Ryan Stegman
Last year, Cullen Bunn brought us NIGHT OF THE LIVING DEADPOOL, the hit tale of the Merc with the Mouth trapped in the zombie apocalypse. In the end, our hero found a "cure" of sorts to this horrible outbreak-any zombie that ate Deadpool transformed…into another Deadpool. And they lived happily ever after? Not so fast, as Cullen Bunn returns, joined by the amazing artwork of Nicole Virella, to let us know that wandering hordes of Deadpools might just be worse than flesh-hungry walking corpses.
Parental Advisory
Video Game High School Board Game
Plaid Hat Games
It's the near future: You're dead. Your kids are probably dead. Your grandkids (if they're alive) are playing video games. Why? Because professional gaming is the biggest sport on earth! Around the world, millions of players duke it out in fighters, RTS's, First Person Shooters, and more. To the victors go the spoils: glory, clan contracts, and million-dollar endorsements! The best young gamers are recruited by elite boarding schools to sharpen their skills, and the best of the best go to VGHS: Video Game High School! Based on the hit web series, the Video Game High School Board Game prepares you for life as a professional video game player!
NEW COMICS ARRIVING 2/4/15
ACTION COMICS #39 $3.99
ALL NEW CAPTAIN AMERICA FEAR HIM #1 (OF 4) $3.99
AMERICAN VAMPIRE SECOND CYCLE #6 (MR) $2.99
ANGEL AND FAITH SEASON 10 #11 $3.50
ANGELA ASGARDS ASSASSIN #3 $3.99
ANNIHILATOR #5 (OF 6) $3.99
ANT-MAN #2 $3.99
AQUAMAN AND THE OTHERS #10 $2.99
ASSASSINATION CLASSROOM GN VOL 02 $9.99
AVENGERS #41 TRO $3.99
BACK ISSUE #78 $8.95
BATMAN 66 #19 $2.99
BATMAN ETERNAL #44 $2.99
BIRTHRIGHT #5 $2.99
BUNKER #9 (MR) $3.99
CLUSTER #1 (MR) $3.99
COMPLETE ELFQUEST TP VOL 02 $24.99
COWL #8 (MR) $3.50
CROSSED BADLANDS #71 (MR) $3.99
DAWN OF PLANET OF APES #3 $3.99
DC COMICS HEROES PATCHES $4.99
DEAD AT 17 BLASPHEMY THRONE #6 (OF 7) $3.50
DETECTIVE COMICS #39 $3.99
DISNEY DARKWING DUCK OMNIBUS TP VOL 01 $29.99
DISNEY PIXAR TREASURY VOL 01 $19.99
DISNEY PRINCESS TREASURY VOL 01 $19.99
DJANGO ZORRO #3 (OF 6) $3.99
EARTH 2 #31 $2.99
EARTH 2 WORLDS END #18 $2.99
EAST OF WEST #17 $3.50
EGOS #5 $2.99
ESCAPE FROM NEW YORK #3 $3.99
FEATHERS #2 $3.99
FICTION SQUAD #5 (OF 6) $3.99
FLASH SEASON ZERO #5 $2.99
FOOD WARS SHOKUGEKI NO SOMA GN VOL 04 (MR) $9.99
GAME OF THRONES #24 (MR) $3.99
GARFIELD #34 NINE LIVES PT 2 $3.99
GFT GRIMM FAIRY TALES #107 (MR) $3.99
GFT TALES OF TERROR #7 (MR) $3.99
GFT WHITE QUEEN #1 (AOFD) (MR) $3.99
GHOST #12 $2.99
GHOST FLEET #4 $3.99
GI JOE (2014) #5 $3.99
GOD IS DEAD #28 (MR) $3.99
GOON ONCE UPON A HARD TIME #1 $3.50
GOTG AND X-MEN BLACK VORTEX ALPHA #1 BV $4.99
GRAYSON #7 $2.99
GREEN ARROW #39 $2.99
GREEN LANTERN #39 $2.99
HAGANAI I DONT HAVE MANY FRIENDS GN VOL 10 (MR) $12.99
HAWKEYE #21 $3.99
HELLBOY AND THE BPRD #3 (OF 5) 1952 $3.50
HELLO KITTY GN ITS ABOUT TIME $7.99
HINTERKIND #15 (MR) $2.99
HOBBY JAPAN DEC 2014 $16.60
HOLLYWOOD ZOMBIE APOCALYPSE #2 (OF 2) $5.99
HULK #11 $3.99
IMPERIUM #1 $3.99
INHUMANITY TP $39.99
INJUSTICE GODS AMONG US YEAR THREE #8 $2.99
KING JUNGLE JIM #1 (OF 4) $3.99
KNIGHTS OF THE DINNER TABLE #217 $5.99
LADY DEATH APOCALYPSE #1 (MR) $4.99
LADY KILLER #2 $3.50
LADY MECHANIKA #0 & #1 COLLECTED ED (MR) $3.99
LEGENDERRY VAMPIRELLA #1 (OF 5) $3.99
LENORE PINK BELLIES TP (MR) $17.99
LOBO #5 $2.99
LOONEY TUNES #223 $2.99
MARVEL COMICS HEROES PATCHES $4.99
MARVELS ANT-MAN PRELUDE #1 (OF 2) $2.99
MEGAMI OCT 2014 $16.60
MIRACLEMAN #15 (MR) $4.99
MS MARVEL #11 $2.99
NAILBITER #10 (MR) $2.99
NAMELESS #1 (MR) $2.99
NAMES #6 (OF 9) (MR) $2.99
NEW 52 FUTURES END #40 (WEEKLY) $2.99
NEW VAMPIRELLA #9 $3.99
NEWTYPE OCT 2014 $16.00
ODDLY NORMAL #5 $2.99
OPERATION SIN #2 (OF 5) $3.99
POSTAL #1 $3.99
PUNISHER #15 $3.99
RAT GOD #1 (OF 5) $3.99
RED SONJA VULTURES CIRCLE #2 $3.99
RETURN OF LIVING DEADPOOL #1 (OF 4) $3.99
ROBOCOP 2014 #8 (MR) $3.99
SAGA #25 (MR) $2.99
SHELTERED #14 (MR) $2.99
SHERLOCK HOLMES STEAM DETECTIVE #1 $3.99
SIMPSONS ILLUSTRATED #15 $3.99
SIXTH GUN DAYS OF THE DEAD #5 (OF 5) $3.99
SKYLANDERS #6 $3.99
SONIC UNIVERSE #72 $3.99
SPAWN #250 $5.99
SPIDER-MAN 2099 TP VOL 01 OUT OF TIME $17.99
STAR TREK CITY ON THE EDGE OF FOREVER HC $24.99
STAR WARS #2 $3.99
STRAY BULLETS SUNSHINE & ROSES #1 (MR) $3.50
SUPERMAN #38 $4.99
SUPERMAN EARTH ONE HC VOL 03 $22.99
SUPERMAN TP VOL 04 PSIWAR (N52) $16.99
SWAMP THING #39 $2.99
TEEN TITANS TP VOL 05 THE TRIAL OF KID FLASH (N52) $17.99
TRANSFORMERS MORE THAN MEETS EYE #37 DAYS OF DECEP $3.99
TRAVELING WITH YOUR OCTOPUS HC $29.95
UNBEATABLE SQUIRREL GIRL #2 $3.99
UNITED STATES OF MURDER INC #6 (MR) $3.99
VELVET #9 (MR) $3.50
VICTORIAN SECRET STEAMPUNK ANGELS 2014 #2 $3.99
WALKING WITH YOUR OCTOPUS HC $29.95
WOLF MOON #3 (OF 6) (MR) $3.99
WOLVERINES #5 $3.99
WOODS #10 $3.99
WORLD CONQUEST ZVEZDA PLOT LADY VENERA NENDOROID $60.99
WYTCHES #4 (MR) $2.99
X-O MANOWAR #33 $3.99