LADIES NIGHT w/ GUEST OF HONOR


KURTIS J. WIEBE
A BENEFIT FOR

THE PINK INK FUND
AND

THE BREAST CANCER RESEARCH FOUNDATION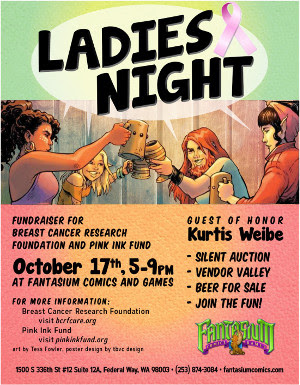 Date: Saturday, October 17th, 2015
Time: 5pm – 9pm
Location: Fantasium Comics & Games – 1500 South 336th St Suite 12, Federal Way, WA 98003
Cost: Free!
Details: Join Fantasium and Guest of Honor Kurtis J. Wiebe (Rat Queens, Peter Panzerfaust) for an evening of fun and adventure to benefit the Pink Ink Fund (http://www.pinkinkfund.org/) and the Breast Cancer Research Foundation (http://www.bcrfcure.org/). Kurtis will be signing copies of his work, and mid-evening will host a Q&A session to answer all your Queen questions. We'll be holding a silent auction for a selection of stunning donations, a trivia scavenger hunt, and giveaway drawings throughout the night! Wear your best adventuring outfit to earn more chances to win! Refreshments and a tasty selection of local craft beers and soda will be available for purchase, with proceeds going to the benefit. Grab your party and adventure on over to help us fight the good fight!
OCTOBER BOOK CLUB:


MORNING GLORIES VOL 1
(W) Nick Spencer (A) Joe Eisma (CA) Rodin Esquejo
Morning Glory Academy is one of the most prestigious prep schools in the country, but something sinister and deadly lurks behind its walls. When six gifted but troubled new students arrive, they find themselves trapped and fighting for their lives as the secrets of the academy reveal themselves!
ON SALE NOW!
JOIN US FOR GROUP DISCUSSION
TUESDAY, OCTOBER 27th @ 6:30 PM!
FIGHT CLUB 

SCRATCH-AND-SNIFF
BOOKMARK CONTEST
From marital discord to genocide, Fight Club 2 has been nothing less than a Grand Opera of Traumas.
Having approached the half way point in the series we are insanely stoked to release the details for this
killer giveaway
produced by Chuck Palahniuk as a special thank-you for the strong support all you Space Monkeys have shown thus far.
Identify the five scents correctly—each numbered scent on the bookmark corresponds to a clue in the issue of the same number—
for a chance to receive an amazing package from the man himself (Chuck Palahniuk).
One random Space Monkey who has correctly identified all five scents will win every
Fight Club 2 comic including variants, FC2
swag, an
autographed collector's edition of the Fight Club novel
, and the
hardcover Fight Club 2 graphic novel
(available June 2016).
The
comic book store of your choice
(
so..uh…us, right?!?
) wins a matching set of prizes as well.
As if that wasn't enough
! Ten randomly selected Monkeys will win copies of the Fight Club graphic novel as will their retailer of choice (
still us! We still vote for us!
)
Monday

– MagicTCG Modern

Monday

@

6pm

– Entry $5 for Modern Constructed

Tuesday

– Pathfinder @

3:30pm

Wednesday

– D&D Encounters @

6pm

Thursday

– MagicTCG Casual Play @

5:30pm

Friday

–

Friday

Night Magic – Booster Draft @

6pm

– Entry $15, Standard Constructed @

7pm

– Entry $5

Saturday

– Ladies Night! Kurtis Wiebe Signing!

5pm – 9pm

Sunday – HeroClix @

Noon

/ Star Wars X-Wing @

3:30pm
SPOTLIGHT PRODUCTS THIS WEEK
CHEWBACCA #1 (OF 5)
MARVEL COMICS
(W) Gerry Duggan (A/CA) Phil Noto
Known as the skilled co-pilot of the infamous Millennium Falcon, the legendary Wookiee warrior CHEWBACCA will star in his very own limited comic series! After the battle of Yavin, Chewbacca is on his own when he crash lands his ship on an Imperial occupied planet. Now stranded, Chewie finds himself caught in the middle of trying to return to the rebellion and helping a young and feisty girl in need. Writer Gerry Duggan (DEADPOOL, 1872, HULK) and artist Phil Noto (BLACK WIDOW, X-23, UNCANNY X-FORCE) bring us a never-before-seen tale of the heroic Wookiee we all know and love.
Rated T
FIREFLY PLAYING CARDS
QUANTUM MECHANIX INCWhile it might not qualify as a regulation Tall Card deck, for playing Earth-That-Was card games, there's nothing quite so versatile as a standard 54-card poker deck. And when it comes to the best poker decks, there is no better brand than United States Playing Card Company, also known as Bicycle. QMx teamed up with renowned Browncoat artist Ben Mund and Bicycle to create the first-ever officially licensed
 Firefly
 Playing Cards for a uniquely Versey experience, sporting dozens of unique works of art.
GUARDIANS OF GALAXY #1
MARVEL COMICS
(W) Brian Michael Bendis (A) Valerio Schiti (CA) Arthur Adams
THE RACCOON'S IN CHARGE!
Peter Quill has abandoned the Guardians and his role as Star-Lord to be Emperor of the Spartax. Rocket didn't wait a single minute to take the reins and become team leader of Drax, Venom, Groot, Kitty Pryde (A.K.A. Star-Lady ?!?!) and new Guardian BEN GRIMM, the everloving THING!
Rated T
PANDEMIC: LEGACY SEASON 1 – BLUE
Z-MAN GAMES
One Year! One Team! One Hope! It started simply – a virus tougher than the rest. Nothing the team can't handle. But as January turned to February, it changed again. What resulted is a year that will never be forgotten. This was no ordinary virus. This was no ordinary year. The team on the front lines saw things, lived things, did things that kept humankind from being snuffed out completely. The results of this virus will be spoken in whispers for generations. Can your team save humanity? Can your team make it through the year? Can your team face month after month of surprises, set backs, and fleeting victories? Are you prepared for Pandemic Legacy?
SPIDER-GWEN #1
MARVEL COMICS
(W) Jason Latour (A/CA) Robbi Rodriguez
BECAUSE YOU DEMANDED IT!
Gwen Stacy is back in the webs and has an all-new, all-different mystery to solve: the reappearance of The Lizard! Spider-Woman was convinced that the Lizard died in her arms along with Peter Parker. But when a similar monster goes on a reptilian rampage, she's left with doubts not only about Peter's life, but his death as well. And witness the debut of the Osborns of Earth-65! Fan-favorite creators Jason Latour, Robbi Rodriguez & Rico Renzi are back for more with a story that every Spider-Fan will be talking about!
Rated T