MARCH BOOK CLUB
LOCKE

&

KEY

VOL 1

:
WELCOME

TO

LOVECRAFT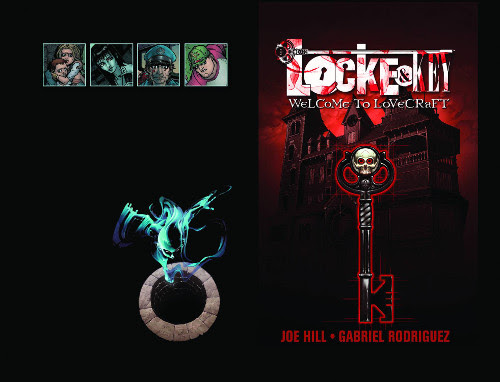 Acclaimed suspense novelist and New York Times best-selling author Joe Hill (Heart-Shaped Box) creates an all-new story of dark fantasy and wonder:Locke & Key.
Written by Hill and featuring astounding artwork from Gabriel Rodriguez, Locke & Key tells of Keyhouse, an unlikely New England mansion, with fantastic doors that transform all who dare to walk through them… and home to a hate-filled and relentless creature that will not rest until it forces open the most terrible door of them all…
Locke & Key creator Hill has received the Bram Stoker Award for Best Fiction Collection, the British Fantasy Award for Best Collection and Best Short Story, and the Sydney J. Bounds Best Newcomer Award-2007, among his growing collection of critical accolades. 
Already

read it? Haven't had

time

? Just

curious

to find out more?
JOIN US FOR

DISCUSSION

ON
TUESDAY, MARCH 29th

@

6PM

!
PRE

–

RELEASES

&

PRE

–

SALES
Pre-Release Events

:
*  

SATURDAY, APRIL 2nd

– SEALED DECK FORMAT @

Midnight

,

10am & 4pm
*  

SUNDAY, APRIL 3rd

– 2-HEADED GIANT SEALED FORMAT @

Noon
ENTRY

:

$25

 (if paid by

Friday, April 1st

),

$30

(

day of

) – Includes pre-release box w/ 6 sealed packs of the new set (loaner lands will be provided).
ADD

:

$5

to your entry fee for pizza & a beverage (excluding Jones, coffee & energy drinks)
PRIZES

:

Packs

will be awarded based on

standings

and the

number

of players.
Everyone

must be paid, signed in, and ready to play 15 minutes before start times! At 15 min before, any no-show spots will be given to walk-ins on a first come, first serve basis.
Pre-Sale Details:
BOOSTER

BOXES

:

$110

w/

Buy-It-By-The-Box

Promo

Card!


FAT

PACKS

:

$39.99




INTRO

DECKS

:

$14.99
BEER

&

BOARD

GAMES

 ​
HIATUS
Due to previously scheduled events, 

BEER

&

BOARD GAME

NIGHT WILL BE ON HIATUS

APRIL 2nd & APRIL 9th

. No events will happen those two nights.
Regular

game nights resume 

SATURDAY, APRIL 16th

.
Details

: 7pm-12am


Age Limit

: 

21+




Entry

: 

$5

(includes

1 drink token

)
Bring a friend and make some new ones! You're welcome to play something from home or borrow from our extensive demo game shelf!
Monday – MagicTCG Modern

Monday

@

6pm

– Entry $5 for Modern Constructed

Tuesday

– Pathfinder @

3:30pm

/ Book Club Discussion @

6pm

Wednesday

– D&D Encounters @

6pm

Thursday

– Casual Magic TCG @

5:30pm

Friday

–

Friday

Night Magic: Draft @

6pm

($15), Standard Constructed @

7pm

($5) – MTG Shadows Over Innistrad

MIDNIGHT

PRE-RELEASE ($30 day of, $25 in advance)

Saturday

– MTG Shadows Over Innistrad

10am

PRE-RELEASE ($30 day of, $25 in advance), MTG Shadows Over Innistrad

4pm

PRE-RELEASE ($30 day of, $25 in advance)

Sunday

–  MTG Shadows Over Innistrad

Noon

2-HEADED GIANT PRE-RELEASE ($30 day of, $25 in advance)
SPOTLIGHT PRODUCTS THIS WEEK
FIREFLY FLUXX CARD GAME
LOONEY LABS
Looney Labs presents the newest, out-of-this-world version of Fluxx: Firefly Fluxx! Join Mal, Wash, Zoë, Inara, Kaylee, Jayne, Simon, River, Book, and more as Fluxx enters the 'Verse at full speed. With the rules constantly changing, Firefly Fluxx is just as unpredictable as misbehaving in space! A game of strategy, skill, and the luck of the draw, Firefly Fluxx echoes the aesthetics of the futuristic western. Featuring sumptuous art by Adam Levermore,Firefly Fluxx is perfect for fans and collectors of both Firefly and Fluxx!
GODZILLA OBLIVION #1 (OF 5)
IDW PUBLISHING
(W) Joshua Hale Fialkov (A) Brian Churilla (CA) Graham Nakamura
A scientist has created a portal to another dimension-one where monsters rule supreme! A terrifying expedition begins into a world where hope has died and Godzilla is the unrivaled King of the Monsters. But what happens when a baby kaiju hitches a ride back to the original, monster-less dimension?
PAPER GIRLS TP VOL 01
IMAGE COMICS
(W) Brian K. Vaughan (A/CA) Cliff Chiang
SPECIAL LOW INTRODUCTORY PRICE OF $9.99
From Brian K. Vaughan, #1 New York Times bestselling writer of SAGA and THE PRIVATE EYE, and CLIFF CHIANG, legendary artist of Wonder Woman, comes the first volume of an all-new ongoing adventure.In the early hours after Halloween of 1988, four 12-year-old newspaper delivery girls uncover the most important story of all time. Suburban drama and otherworldly mysteries collide in this smash-hit series about nostalgia, first jobs, and the last days of childhood.
Collects PAPER GIRS #1-5
POWER LINES #1 (OF 6) (MR)
IMAGE COMICS
(W/A/CA) Jimmie Robinson
"Street Hero"
A local street hood surviving in a crime-infested ghetto has his life turned around when an ancient magic grants him superhuman powers-except his ability only activates in an upscale white community that may not accept him.Gritty, racially charged street-wise drama!
SUICIDERS KING OF HELLA #1 (OF 6) (MR)
DC COMICS
(W) Lee Bermejo (A) Alessandro Vitti, Lee Bermejo (CA) Lee Bermejo
  A whole generation has grown up since the Great Quake, and people like Trix and her brother Johnny don't know what life was like before New Angeles crumbled. Suffice to say, they've learned how to make the most of living inside the walled city, and particularly within their 'hood. Johnny is the leader of the Kings of HelL.A., a street gang ready to protect its turf against any and all comers-though Johnny may have taken things too far when he crossed Leonard, a former Suicider known as the Coyote. Things are about to get a whole lot more violent.
Meanwhile, Trix is finding love in the arms of Johnny's best friend, and their star-crossed romance is going to bring trouble of an entirely different kind.
The second chapter in Lee Bermejo's acclaimed SUICIDERS series shows us a completely different side of life in New Angeles. Joining Bermejo for KINGS OF HELL.A. is artist Alessandro Vitti (RED LANTERNS), whose kinetic style perfectly fits SUICIDERS' brutal landscape.