Holy Crap Star Wars #1 is almost here! We've also got an omnibus of previous Marvel Star Wars books. Check it out. Be sure to sign up for the Fate Reforged Pre-Release Tournaments and the Pre-Sales, spots are going FAST!
Also check out our calendar we are hosting great games like X-wing Miniatures and Star Trek Attack Wing, new games like Golem Arcana and soon to host Dungeons and Dragons Attack Wing! Come play with us and have a great time!
~Matt
UPCOMING SPECIAL EVENTS
January 17th & 18th – Magic the Gathering Fate Reforged Pre-Release
We are now taking sign-ups for our Fate Reforged Pre-Release! We will have 2 events on Saturday, one at 10am and one at 4pm. We will have 1 event on Sunday at Noon. Entry is $25.
January 18th – End of Fate Reforged Pre-Sale
We will be pre-selling boxes of Fate Reforged for $110. January 18th is you last day to pre-order at the discounted price!
SPOTLIGHT PRODUCTS THIS WEEK
CONAN & RED SONJA #1 (MR)
DARK HORSE COMICS
(W) Gail Simone, Jim Zub (A) Dan Panosian (CA) Dan Panosian, Dave Stewart
Gail Simone teams with Jim Zub to bring together legendary warriors in this truly epic crossover!
In a story spanning multiple eras in the lives of these classic characters, Conan and Red Sonja become comrades to take down a sorcerer-priest hell bent on creating a dark new age in Hyborian warfare!CONAN RED SONJA #1
Epic Spell Wars of the Battle Wizards: Duel At Mt. Skullzfyre
CRYPTOZOIC ENTERTAINMENT
Did you know that magical wizards are battling to the death … and beyond … right now!? "Why battle?" you might ask. "What have I got to prove, magic man?" Only who's the most awesomely powerful battle wizard in the entire realm, that's what! As a Battle Wizard, you'll put together up to three spell components to craft millions* of spell combos. Your spells might kick ass, or they could totally blow — it's up to you to master the magic. You will unleash massive damage on the faces of your wizard rivals in a no-holds-barred, all-out burn-down to be the last Battle Wizard standing. And it doesn't stop there! Powerful magic items bring on a whole new level of bloody carnage as you and your mighty wizard opponents tear each other limb from limb in an orgy of killing! Do you have what it takes to use epic spells in a war at Mt. Skullzfyre? Will YOU be the Ultimate Battle Wizard!?!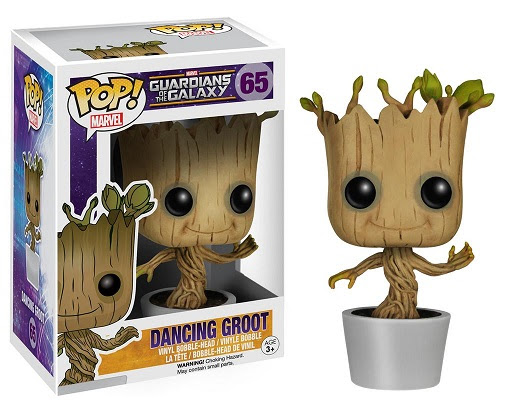 Pop Dancing Groot
DIAMOND COMIC DISTRIBTORS
I AM GROOT!
Guardians of the Galaxy, is sculpted as a 3 3/4″ tall figure in the urban, stylized design that has proven so popular with fans. Add Dancing Groot to your Guardians collection today!
RAT QUEENS SPECIAL BRAGA #1 (MR)
IMAGE COMICS
(W) Kurtis J. Wiebe (A) Tess Fowler (CA) Roc Upchurch, Tess Fowler
"BRAGA: THE ONCE PRINCE, NOW BASTARD"
Before joining the Peaches, Braga was destined to become the greatest leader of her people. But a life changing decision proved too controversial for even her most devout followers. A former life paved on the bodies of her enemies left behind…what choice was worth losing everything?
Featuring guest artist TESS FOWLER!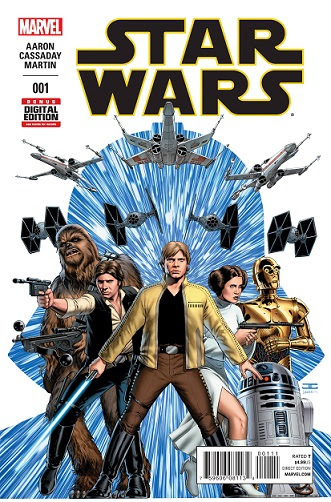 STAR WARS #1
MARVEL COMICS
(W) Jason Aaron (A/CA) John Cassaday
THE GREATEST SPACE ADVENTURE OF ALL TIME RETURNS TO MARVEL!
Luke Skywalker and the ragtag band of rebels fighting against the Galactic Empire are fresh off their biggest victory yet-the destruction of the massive battle station known as the Death Star. But the Empire's not toppled yet! Join Luke along with Princess Leia, smugglers Han Solo and Chewbacca, droids C-3PO and
Happy
R2-D2 and the rest of the Rebel Alliance as they strike out for freedom against the evil forces of Darth Vader and his master, the Emperor. Written
existe
by Jason Aaron (Original Sin, Thor: God of Thunder) and with art by John Cassaday (Astonishing X-Men, Uncanny Avengers), this is the Star Wars saga as only Marvel Comics could make it!
Rated T
NEW COMICS ARRIVING 1/14/15
ABE SAPIEN #19 $3.50
ADVENTURE TIME MARCELINE GONE ADRIFT #1 $3.99
ALICE COOPER #5 $3.99
ALIEN VS PREDATOR FIRE AND STONE #4 (OF 4) $3.50
ALL NEW CAPTAIN AMERICA #3 $3.99
ALL NEW GHOST RIDER #10 $3.99
ALL NEW ULTIMATES #12 $3.99
AMAZING X-MEN #15 $3.99
ASTRO CITY #19 $3.99
AVENGERS #34.2 $4.99
AVENGERS #40 TRO $4.99
BATGIRL #38 $2.99
BATMAN ETERNAL #41 $2.99
BOOM BOX 2014 MIX TAPE #1 $9.99
BRAVEST WARRIORS #28 $3.99
BRAVEST WARRIORS TP VOL 04 $14.99
BTVS SEASON 9 LIBRARY HC VOL 01 $29.99
CAPTAIN MARVEL #11 $3.99
CONAN RED SONJA #1 $3.99
CONSTANTINE #21 $2.99
COPPERHEAD #5 $3.50
CYCLOPS #9 $3.99
DAMSELS IN EXCESS #4 $3.99
DAREDEVIL #12 $3.99
DEADPOOL #40 $3.99
DEATH DEFYING DR MIRAGE #5 (OF 5) $3.99
DEATHLOK #4 $3.99
DEEP STATE #3 $3.99
DOCTOR WHO 10TH #6 $3.99
EARTH 2 WORLDS END #15 $2.99
EVIL ERNIE #3 $3.99
EX CON #5 (OF 5) (MR) $2.99
FABLES THE WOLF AMONG US #1 (MR) $3.99
FBP FEDERAL BUREAU OF PHYSICS #17 (MR) $2.99
FRAGGLE ROCK JOURNEY EVERSPRING #4 (OF 4) $3.99
FUSE #9 (MR) $3.50
GEORGE ROMEROS EMPIRE OF DEAD ACT TWO #5 (OF 5) $3.99
GFT TALES FROM OZ #6 $3.99
GFT WONDERLAND #31 (MR) $3.99
GOLD DIGGER #217 $3.99
GRAYSON #6 $2.99
GREEN LANTERN CORPS
Elsa's
#38 $2.99
GUARDIANS 3000 #4 $3.99
HENSHIN OGN $19.99
HEXED #6 $3.99
HOLMES VS HOUDINI #3 (OF 5) $3.99
I AM JACKIE ROBINSON YR HC $12.99
INJUSTICE GODS AMONG US YEAR
in
THREE #7 $2.99
JUPITERS LEGACY #5 (MR) $4.99
JUSTICE LEAGUE UNITED #8 $3.99
KLARION #4 $2.99
LAZARUS #14 (MR) $3.50
LONE RANGER VINDICATED #3 (OF 4) $3.99
MARVEL UNIVERSE AVENGERS ASSEMBLE
Feeling
SEASON TWO #3 $2.99
MERCY THOMPSON #4 (OF 6) $3.99
MILES MORALES ULTIMATE SPIDER-MAN #9 $3.99
MORTAL KOMBAT X #1 (MR) $3.99
MORTAL KOMBAT X #1 (MR) $3.99
MY NEIGHBOR SEKI GN VOL 01 $10.95
NEON GENESIS EVANGELION GN VOL 14 $9.99
NEW 52 FUTURES END #37 (WEEKLY) $2.99
NEW SUICIDE SQUAD #6 $2.99
NIGHTCRAWLER #10 $3.99
PLANTS VS ZOMBIES HC TIMEPOCALYPSE $9.99
PLUME V2 #2 (OF 4) $3.99
PRE CODE CLASSIC SPACE DETECTIVE BOOKSHOP ED VOL 0 $47.99
PUELLA MAGI MADOKA MAGIKA KYOKO SAKURA CU-POCHE FI $44.99
Q2 RTN QUANTUM & WOODY #4 (OF 5) $3.99
RACHEL RISING TP VOL 05 NIGHT COMETH $16.99
RAT QUEENS SPECIAL BRAGA #1 (MR) $3.50
REGULAR SHOW #19 $3.99
RESURRECTIONISTS #3 $3.50
SCOOBY DOO WHERE ARE YOU #53 $2.99
SHIELD #2 $3.99
SHUTTER #8 (MR) $3.50
SILVER SURFER #8 $3.99
SMALLVILLE SEASON 11 CONTINUITY #2 (OF 4) $3.99
SPIDER-VERSE #2 (OF 2) $4.99
SPONGEBOB COMICS #40 $2.99
STAR TREK ONGOING #40 $3.99
STAR WARS #1 $4.99
STAR WARS
released
MARVEL YRS OMNIBUS HC VOL 01 $125.00
STRAY BULLETS TP VOL 06 KILLERS (MR) $19.99
STUMPTOWN V3 #5 $3.99
SUICIDE RISK #21 $3.99
SUPER SONICO NANORICH VC SO VER $59.99
SUPERANNUATED MAN #5 (OF 6) (MR) $3.99
SUPERGIRL TP VOL 05 RED DAUGHTER OF KRYPTON (N52) $17.99
SUPERMAN WONDER WOMAN #15 $3.99
TEN GRAND #12 (MR) $2.99
TERRIBLE LIZARD #3 (OF 5) $3.99
THANOS VS HULK #2 (OF 4) $3.99
THOMAS ALSOP #8 (OF 8) $3.99
TWILIGHT ZONE #11 $3.99
UNCANNY X-MEN TP VOL 03
GOOD
BAD INHUMAN $19.99
VAMPIRELLA #100 $7.99
VEROTIK WORLD #4 WEIRD VOODOO (MR) $4.95
WALKING DEAD #136 (MR) $2.99
WILDS END #5 $3.99
WOLVERINES #2 $3.99
WORLDS FINEST #30 $2.99
WWE SUPERSTARS ONGOING #11 $3.99
X #21 MARKED FOR DEATH PT 1 (MR) $2.99
X-FORCE #14 $3.99